Aurock has the capacity to take into account all the specificities of your process in order to meet your specific demands. Aurock can work on conventionnal processes (such as stamping, forging, rolling, SPF, welding) or on special proccesses developped internally.
The Aurock team clossely understand plant problematics and has a good knowledge of the industrial constraints of process implementations. Upstream of the simulation, our engineers travel on site to properly analyze the process implementation by operators and to correctly identify the boundary conditions to achieve the calculations.
These simulations allow to assess process parameters (stress, strains, temperature…), the sheets final thickness, the residual stress and final distorsions. It can also help redesigning tools.
Superplastic forming simulation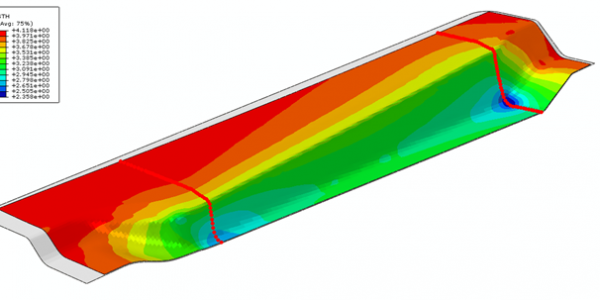 Simulation example : residual stress in a roll-bended panel
The study was to simulate the roll-bending of a titanium alloy panel to assess the level of residual stress. Experimental measurements have validated the numerical results.
These results lead to a new design of the panel in order to reduce the residual stress level.
Simulation example : beam electron welding
The welding is characterized by very local high temperature variations that bring metallurgical modifications and residual stress during cooling. Aurock can assess the final distorsions and residual stress of the welded assemblies and propose solutions to reduces them.