Aurock has its own characterization devices as well as partnerships with research labs to get some specific properties. In certain cases, the identified properties are inputs needed for numerical simulations.
Characterization of elastic properties by acoustic method
Aurock is equiped with a Resonant Frequency & Damping Analyser (RFDA). The RFDA test rig is used to do impulse excitation measurements from room temperature up to 1050°C under air. The RFDA measures resonant frequencies, internal friction or damping of samples with all kind of materials and allows to calculate the Young's modulus, Shear modulus and Poisson ratio.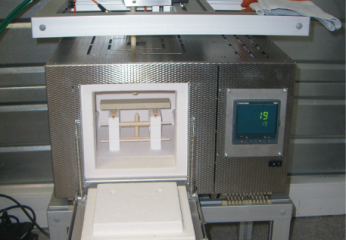 Measurements :
Young's modulus (> 1 GPa)
Poisson's ratio and Shear modulus
Damage: comparative material study
Damping or internal friction
Defaults detection in metallic materials
Thermal shocks resistance
Structural evolution during sintering
Dectection of phase transformation
Influence of a coating on the substrate
Sample specificities :
Homogenous and isotropic
Bar from 20 to 200 mm long
Disk from 20 to 100 mm of diameter
Tested materials :
Ceramics
Metals
Glasses
Polymer
Refractories
Concretes
Other materials…
Measurement according  :
ASTM E 1876, ISO 12680-1, ENV 843-2
Temperature ranging 20 to 1050°C under air or neutral atmosphere (Argon, Nitrogen)
Heating and cooling rate : 5°C/ min maximum
Complex thermal cycles
For non-homogeneous and anisotropic materials or for special geometries, please contact us.
Powder compaction characterization test machine